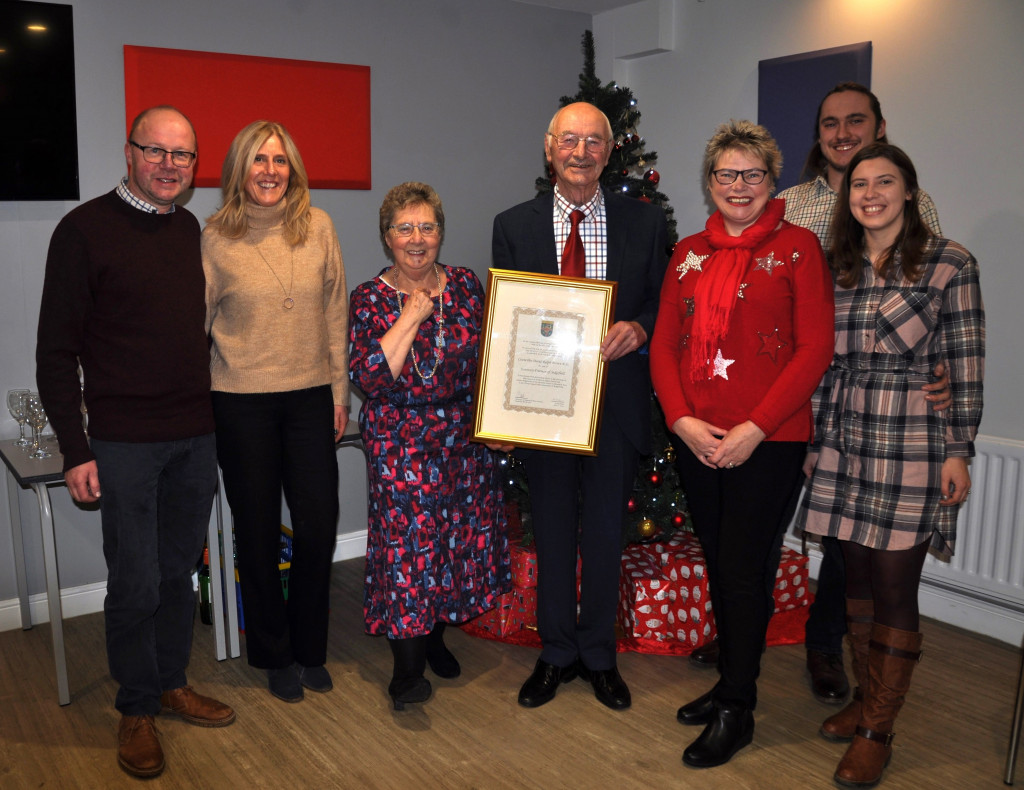 At the Town Council's AGM in May 2022, Councillor David Brown was awarded the status of Honorary Freeman of Sedgefield in recognition of his long-standing public service to the Town and its residents.  David was officially presented with his award by Chairman of the Town Council, Councillor Mel Carr, at a gathering of his family and friends on Thursday 1st December 2022.
David is a true Sedgefield-ite, brought up on Bog House Farm until his marriage to Elizabeth in 1964, at which time he began farming at Hopper House farm, now ran by his son and daughter in law. Always proud of his roots, David boasts a 60+ ball game attendance record, a feat which earned him the honour of starting off the game in 2009! An avid supporter of Sedgefield's Agricultural Show, David volunteered as Ring Steward for many years, a role which he has just recently retired from.
David first joined the town council in 2003, passionate about representing Sedgefield's rural community, which makes up 10% of the Parish's population. David was Mayor of Sedgefield in 2017/18, raising a significant sum of money for the Great North Air Ambulance Service (GNAAS), Macular Society and other local good causes. It was a particular highlight for David to welcome Burgermeister Bernd Romanski, and his wife Heike, from our German twin town of Hamminkeln, while Mayor.
David continues to serve the town as both Town Councillor and County Councillor, supporting community groups and acting as the voice of rural residents. Congratulations once again!