For information about previous Mayors please follow the links at the bottom of the page.
Mayor 2022-2023 – Dave Jasper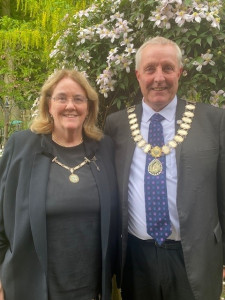 I am delighted to have been elected as Mayor of Sedgefield.  I consider it to be a very great honour and privilege to have been asked to represent our wonderful village.  My links with the area go back to 1976 when I was appointed as Music teacher at Sedgefield Primary, a role which I was very happy in during my 8 years there.  It was during that time that I became MD for the Lyric Singers, another role which a thoroughly enjoyed.  I moved into Sedgefield in 1988 and following my marriage to Julie we welcomed our children Tim and Ciaran who have both grown up in the village.  In 2003 I joined the Sedgefield Players and can still be seen regularly tripping the boards in a wide array of productions.  I love spending time with such a talented group of people ranging through all age groups.  I am now three times the age I was when I first worked in Sedgefield and having spent most of my adult life here, I feel fully accepted as a local Sedgefield(ite).  I just need to persuade the Players to put on a production of Dick Whittington as I have a black cat!
I promise to carry out the civic duties of Mayor of Sedgefield to the best of my ability and to follow the wonderful examples set by past Mayors of Sedgefield.  My wife and I look forward to meeting residents and visitors to Sedgefield, to represent our village and to raise funds for local causes close to our hearts.  My headline charity will be Cancer Research which I have chosen in memory of my much loved parents.  My Mum died of Bowel Cancer, a disease which affects 1 in 25 people, and my Dad died of Prostate Cancer, a disease which affects 1 in 9 people.
Details about my fund raising events will be posted on this page and through other Town Council media such as Twitter and Sedgefield Extra.
---
24th September 2022
The Mayor and his Consort enjoyed a super evening as honoured guests of the Sedgefield Twinning Association, who were celebrating their 40 year anniversary, with German beer, sausages, strudel, pretzels and accordion music. They met some lovely people and would like to offer their grateful thanks to Alda, Philip, Judith and the rest of the Committee  for inviting them to their special night in Ceddesfeld Hall.
---
24th September 2022
Sedgefield Mayor, Dave Jasper enjoyed a fun night at Spennymoor FC as guests of the Spennymoor Mayor and his Consort at their Race Night and Beetle Drive. Picked 2 winners too! A large party of my friends from Spennymoor Stage and Song  were there, supporting Mayor Dean Ranyard's charity fundraiser.
---
23rd September 2022
Sedgefield's Mayor and Consort, Dave and Julie Jasper had a wonderful morning at Locomotion as guests of the Mayor of Shildon. They even had a short ride on a replica of The Rocket. The tour provided a fascinating insight into the huge part Shildon played in our country's railway heritage.
---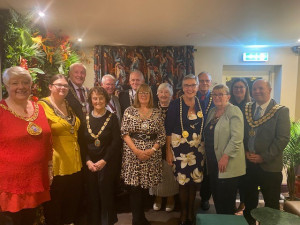 22nd September 2022
The Mayor, Dave Jasper was pleased to be invited to a curry night fundraiser at Ashoka Indian Restaurant by the Mayor of Seaham, Sue Morrison. A very pleasant evening was spent in the company of several NE Mayors.
---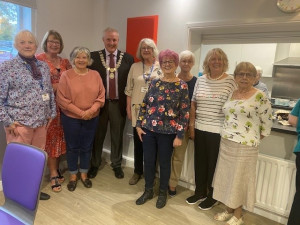 22nd September 2022
The Mayor was pleased to attend the u3a coffee morning in the Fletcher Room of the Parish Hall during u3a week. Members had provided a selection of cakes to accompany the tea and coffee and various satellite groups had mounted informative displays of photographs, craft items and books of their creative writing.
Pictured are our Mayor, Dave Jasper with the Chair, Gillian Bowman and other u3a Committee and members.
---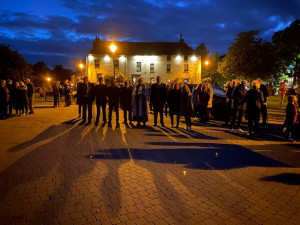 18th September 2022
The Mayor, his Consort, STC Chair Mel Carr  and Michael King were privileged to lead a large assembly of villagers in a minute's silence and prayers on the eve of the late Queen's funeral at the War Memorial tonight.
---
18th September 2022
The Mayor and his Consort were delighted to be asked to present the trophies at Sedgefield Players' 44th Drama Festival of One Act Plays on Saturday night. Pictured are Sedgefield's 3 entries, all of which won awards, winning 12 trophies out of a total of 20, including best production, best actor, best actress, best director, the audience award and the youth award.
---
9th September 2022
The Sedgefield Mayor and his Consort spent a very pleasant evening as guests of the Mayor of Sunderland, being shown around the Ryhope Pumping Station, which is run by volunteers. It was a most interesting experience to see how water was pumped by steam 150 years ago to supply the town.
---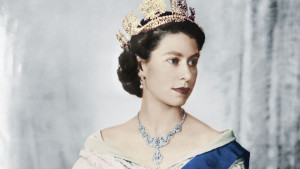 9th September 2022
I was delighted to be invited to the WI Coffee Morning today, along with my Consort Julie, to meet the members. The event today was tinged with sadness but it was absolutely fitting that a minute's silence was respectfully held, bearing in mind that Queen Elizabeth 11 was the Patron of the WI. May she rest in peace.
---
2nd September 2022
The Mayor and his Consort were invited to the 30th birthday party of the Pop-In Club, held in the Parish Hall. Kelly provided the up-beat musical entertainment and Linda Smith from No. 4 was responsible for the lovely catering. The pretty pink and white birthday cake was cut by founder member Betty Roper
---
2nd September 2022
A packed Parish Hall (with a number of special guests present) spent an hour and a half chatting and enjoying each other's company over coffee and cakes at my fundraising coffee morning this morning. The magnificent sum of £364.43 was raised for my charities. Radio Tees gave us a mention at 9:00am which was useful as a number of people heard the broadcast. I am grateful to the help afforded me by my team of bakers and also to Joyce, Connie,  Elaine, Audrey and Gill for ensuring there was a constant supply of cuppas and cakes.
---
August 2022
It was a pleasure to attend Seaham Mayor's Charity Fashion Show this evening. Seven models strutted their stuff in the new Autumn range of clothes brought along from Sunderland shop Bou-Chique. After the show, which was held in Seaham Town Hall, people were invited to sift through the wide range of clothes on sale to find some real bargains amongst the sale rails. Tea, coffee and scrumptious cakes were provided to keep up our strength.
---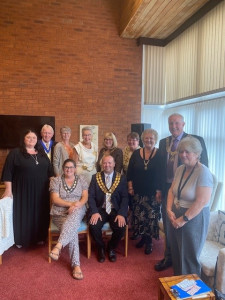 31st August 2022
I was delighted to attend the Bingo, Buffet and Entertainment afternoon at the Clarence Court Sheltered Housing Complex in Spennymoor this afternoon. The residents really enjoyed the programme of events organised for their entertainment. £615 was raised for the Spennymoor Mayor's charities. One lady I spoke to was 96 years young and she thanked me for taking the time to talk to her because I'd noticed how she knew the words of all the songs performed by local singer Anne-Marie Clayton.
---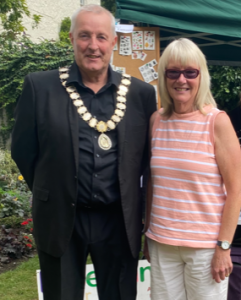 21st August 2022
Lovely to see so many families enjoying the sunshine and the games at the SCA's Family Fun Day in Ceddesfeld Hall grounds today.
Thank you to Sarah and Tony Guest for organising it all and thank you to all those generous people who donated £30+ to my Charity Collection Bucket.
---
20th August 2022
We had a wonderful night at Ferryhill WMC as guests of Ferryhill Mayor Carole Atkinson, being entertained by Mark 'Elvis' Nixon. What an energetic performer he is. £1,100 was raised for Carole's chosen charities and I was pleased to have been invited and to be able to support her fundraising.
Annette Lawson accompanied me as my guest Consort (as a thank you for all her help with my Moondogs event last month and my Bring and Buy Sale more recently.)
---
13th A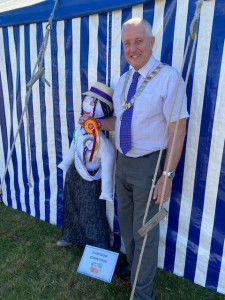 ugust 2022
Mayor Dave Jasper and his Consort Julie were thrilled to be asked to spend the day at Sedgefield Show judging a number of classes. Mayor Dave is pictured with the winner of the Scarecrow Competition and Mayor Dave and Consort Julie are pictured with Dan Lawson of Sedgefield Young Farmers, who was being presented with the trophy for Best Trade Stand. It was perfect weather to welcome back the show after a pandemic-induced break and the huge crowds were happy to see its return.
---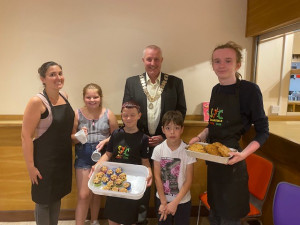 12th August 2022
The Mayor and his Consort were delighted to be invited to the Sedgefield Youth Club's Coffee Morning in the Parish Hall. The packed Hall was buzzing with excited chatter and the children were working very hard to keep up a constant flow of teas, coffees, cakes, biscuits and scones. Well done SYC and thanks again for the invitation.
---
6th August 2022
A cracking night out representing Sedgefield at Great Aycliffe Mayor Cllr Ken Robson's Charity Night with Micky Rich singing hits from the 50s, 60s and 70s in the Phoenix Club, Newton Aycliffe, all to raise money for the Mayor's 2 favoured charities. Well done Ken, Elaine and Alison for organising such a great night.
Plenty of Mayors and Consorts in attendance lending support too.
---
1st August 2022
I was thrilled to be invited to meet the Northumbria in Bloom judges for individual community premises today. A guided tour of the various areas within the building was an eye-opener: men's mental health, reflexology, sewing class, flower arranging and an art gallery all being catered for. The 3 areas of the garden were next up, with its raised beds for easy access This was followed by coffee and cake and a chat with the judges and volunteers. The transformation from an empty garage showroom into a thriving community hub is astounding. Mention should be made of young Tristan Anderson, who has shown maturity and an awareness of environmental issues which belie his age. A thoroughly entertaining morning. Thank you, Hive.
---
30th July 2022
A good turnout at the Grand Bring and Buy Sale, in spite of the rain this morning, with great help from my teams of helpers, assisting me to raise £182.10 for my charities. Thank you for a job well done.
---
27th July 2022
What a lovely morning we had accompanying the two Northumbria in Bloom judges round the village, showing them just how wonderful Sedgefield is, thanks to the hard work and vision of the STC gardeners and the Sedgefield in Bloom team, in making it such an ideal place to live. Well done everyone – it's really beautiful.
---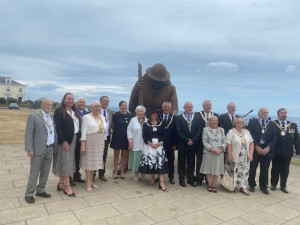 24th July 2022
I was privileged to be among the many Civic guests at Seaham to witness the granting of the Freedom of the Town of Seaham to the 4th Regiment Royal Artillery.
The Mayor of Seaham Sue Morrison gave an excellent welcoming speech during the Celebration Service.
---
22th July 2022
Here are a few pictures from the Mayor of Sedgefield's 50s and 60s fundraiser evening in Sedgefield Parish Hall, with entertainment by the incredible Moondogs. The sell-out crowd all had a fabulous evening, dancing the night away.
Pictured: Mayor of Sedgefield Dave Jasper and Consort Julie with (1st group image) Civic Head of Northumberland Trevor Cessford with his Consort Nicole and (2nd group image) Mayor of Ferryhill Carole Atkinson with her Consort. daughter Nicola.
---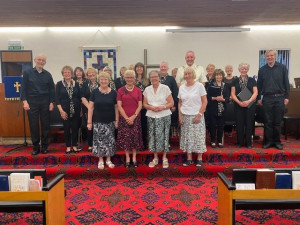 17th July 2022
I was delighted to be the guest of honour at a concert given by Belmont Ladies' Choir (conducted by Steve and accompanied by Edward) in the Sedgefield Methodist Church. A varied programme of music ranging from a My Fair Lady Medley to Gospel music and from Da Doo Ron Ron Ron to Mamma Mia was enjoyed by all.
A big thank you to the team who arranged the whole evening, including the very welcome tea and biscuits on such a hot evening.
---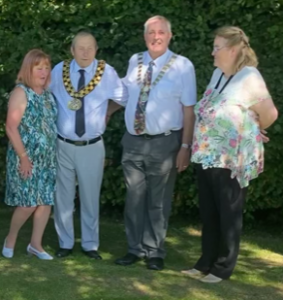 7th July 2022
The Second 'At Home' of the week, this time for the Great Aycliffe Mayoress, Elaine Robson at their Council Offices. A lovely time was had by all the guests and almost £400 was raised in the mega-raffle for their charities.
Pictured: Mayor of Sedgefield Dave Jasper and Consort Julie with Mayor of Great Aycliffe Ken Robson and Mayoress Elaine Robson.
---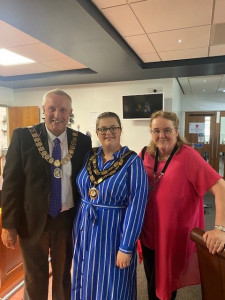 4th July 2022
A lovely afternoon spent at Mayor of Shildon Hannah Hanratty's 'At Home Tea Party' event in the Civic Hall today. We were greeted by a piper at the door, were entertained by pupils from Timothy Hackworth Primary School reciting their own 'I Have a Dream' speeches and we were in great company with an abundance of Mayors and Civic Dignitaries. Well done Hannah.
Pictured: Mayor of Sedgefield Dave Jasper and his Consort Julie with Mayor of Shildon Hannah Hanratty.
---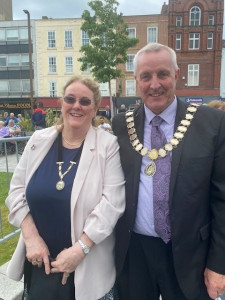 30th June 2022
We have had the most wonderful time in perfect weather in Stockton celebrating Armed Forces Day. A packed programme of stalls and entertainment kept us enthralled all day. The highlight for us had to be 8 Rifles sounding The Retreat after they'd  paraded down the High Street. which was packed with schoolchildren and well-wishers, all enjoying the spectacle.
Well done Mayor Ross Patterson for putting on such a great event, before we all went to The Arc for refreshments.
---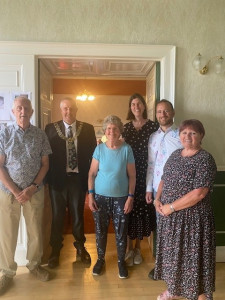 26th June 2022
Mayor of Sedgefield Dave Jasper and his Consort Julie were thrilled to be invited to the Sedgefield Twinning Association's Strawberries and Fizz event in Ceddesfeld Hall.
Pictured with Dave are members of the Committee and Event Organisers. They are always on the lookout for new members to join this friendly group, to maintain the links with Hamminkeln.
---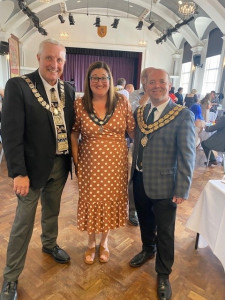 25th June 2022
Lovely event today in a packed Spennymoor Town Hall for Mayor Dean Ranyard's At Home Fundraiser, with some wonderful, patriotic entertainment from Spennymoor Stage and Song. Caught up with some old friends and we even came away with a few prizes.
Pictured: Mayor of Sedgefield Dave Jasper with Mayor of Sedgefield Dean Ranyard and his Consort Beckie Calder.
---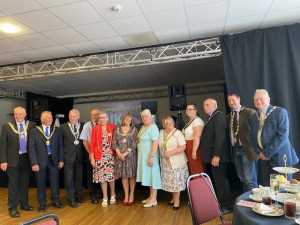 16th June 2022
Mayor of Sedgefield Dave Jasper and his Consort Julie were delighted to be invited to Seaham Mayor's Afternoon Tea Party in Seaham Town Hall on 16th June. They were pleased to be able to meet a number of Mayors from other local Councils, as well as renewing acquaintances with some other Mayors from previous civic engagements. Seaham Mayor Sue Morrison put on an excellent afternoon's entertainment for her guests, whilst raising funds for her chosen charities.
---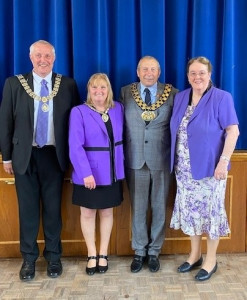 5th June 2022
The Mayor of Sedgefield and his consort Julie represented the town at the Mayor of Great Aycliffe's Civic Service at St Claire's Church in Newton Aycliffe.
Pictured: Mayor of Sedgefield Dave Jasper and his Consort Julie with the Mayor of Great Aycliffe Ken Robson and Consort Elaine.
---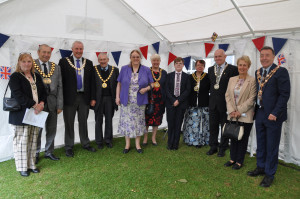 4th June 2022
Following a wonderfully uplifting Service of Thanksgiving in St. Edmund's Church for the Queen's Platinum Jubilee, Mayor of Sedgefield Dave Jasper and his consort Julie were delighted to accompany their civic guests to Ceddesfeld Hall grounds for refreshments and to enjoy a varied programme of musical events. Mayors, consorts and civic heads from Great Aycliffe, Stanley, Darlington, Sunderland and Blyth all remarked upon what a great day they'd had in Sedgefield.
---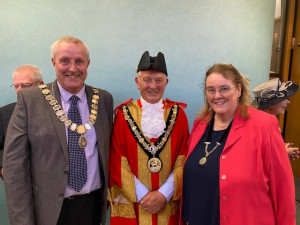 26th May 2022
What a great event we have just been to in Hartlepool Civic Centre watching the Mayor making. And what a fantastic spread afterwards. We also got to meet The Lord Lieutenant of Durham, Sue Snowdon.
Pictured: Mayor of Sedgefield Dave Jasper and his Consort Julie with new Hartlepool Mayor Brian Cowie.
---
Archive
Mayor 2021/22 – Ann Carr
Mayor 2019-2021 – Leo McCormack
Mayor 2018/19 – Mavis Wayman
Mayor 2017/18 – David Brown
Mayor 2016/17 – Chris Lines
Mayor 2015/16 – Gloria Wills