For information about previous Mayors please follow the links at the bottom of the page.
Mayor 2019/20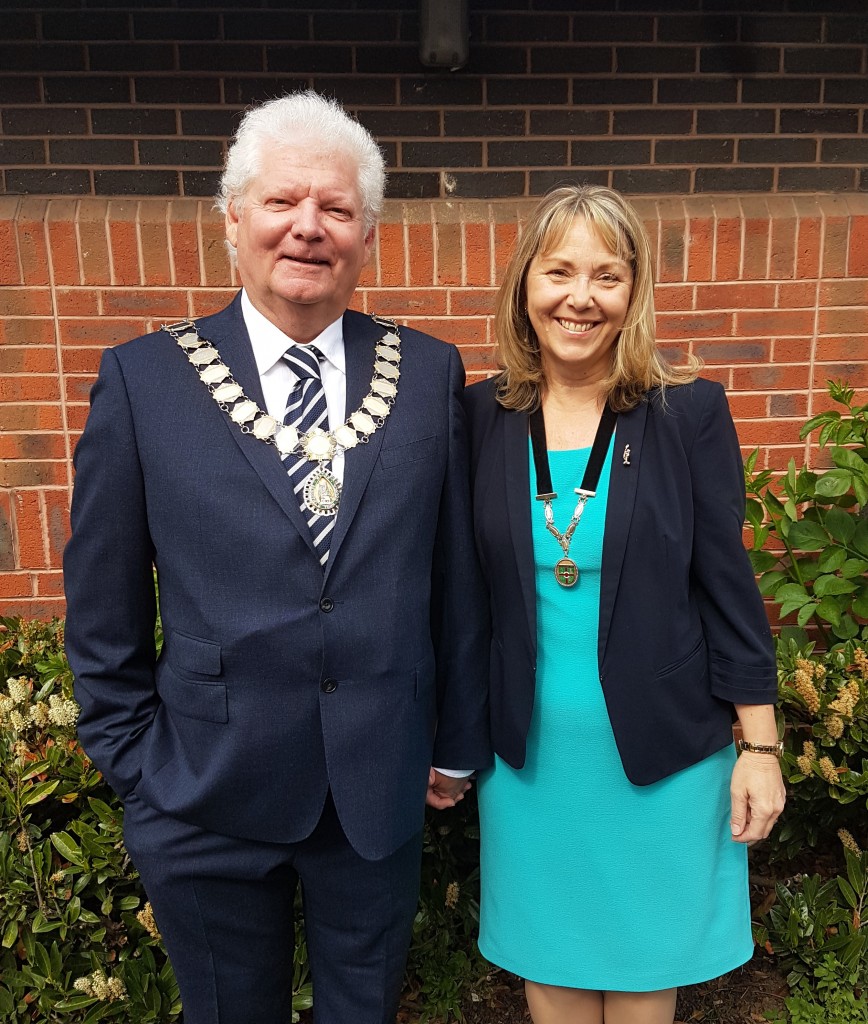 Sedgefield Town Council Councillors were delighted to elect Councillor Leo McComack (pictured with his wife Sandra), who joined the council in 2017, as Mayor of Sedgefield  for 2019/2020. Cllr McCormack was born and raised in he north of England and moved to Sedgefield with his wife Sandra in 2003. With a professional background in teaching and a passion for singing and writing, Leo has vast experiencing engaging with staff and students alike to produce and perform various drama/ musical events and told us: "I look forward to utilising my experiences to interact with, and facilitate, local community groups.". Leo is delighted to be elected as Mayor of Sedgefield, adding that "it will be a great honour to represent Sedgefield and I will carry out this role to the best of my ability. I am a true believer in the power and importance of community." During his time as mayor, Leo has chosen Butterwick Hospice as his main charity along with support for local dementia groups.
September 2019 Update:
It has been both a delight and a pleasure to represent the people of Sedgefield as Mayor so far. Along with meeting numerous dignitaries, I have met a great number of wonderful volunteers who have all made me extremely welcome.
Perhaps the highlight was officially opening the new bar at Sedgefield Cricket Club. The evening was a really pleasant occasion and it was great to meet the valued members of both the cricket club and the rugby club. The club is a fantastic asset, the refurbishment is first class, and clearly all involved make a great contribution to the local community.
Later in June, it was a real pleasure to help with the children's tub planting on the green. This was a fine community activity where the sun shone and everyone enjoyed themselves. I was particularly impressed by how the children set about their task with such care and vigour – a credit to the organisers, parents and teachers.
I spent a lovely afternoon at Sedgefield Twinning Association's Strawberry, Cream and Bubbly event and the following day it was a great honour to present the Brownie Gold Award, the highest award in the movement, to Millie for her outstanding service.
On the wider front, I have attended the Mayor of South Shield's charity boat trip on the Tyne, enjoyed a visit to Shildon Locomotion Museum with the Mayor of Shildon and attended various 'Mayor at Home' charitable events. It has been good to make valuable links with other community representatives.
I am looking forward to the Mayor's Civic Service on Saturday 5th October. This is to be a celebration of everything that is good about Sedgefield, highlighting all the volunteer groups and the excellent work they do. The questions have now been set for the traditional Mayor's Quiz on 25th October 2019 and we are making good progress with planning the Mayor's Charity Ball on Friday 6th March 2020. I look forward to spending more time in the community and hope to see you all at upcoming festive events.
November 2019 update: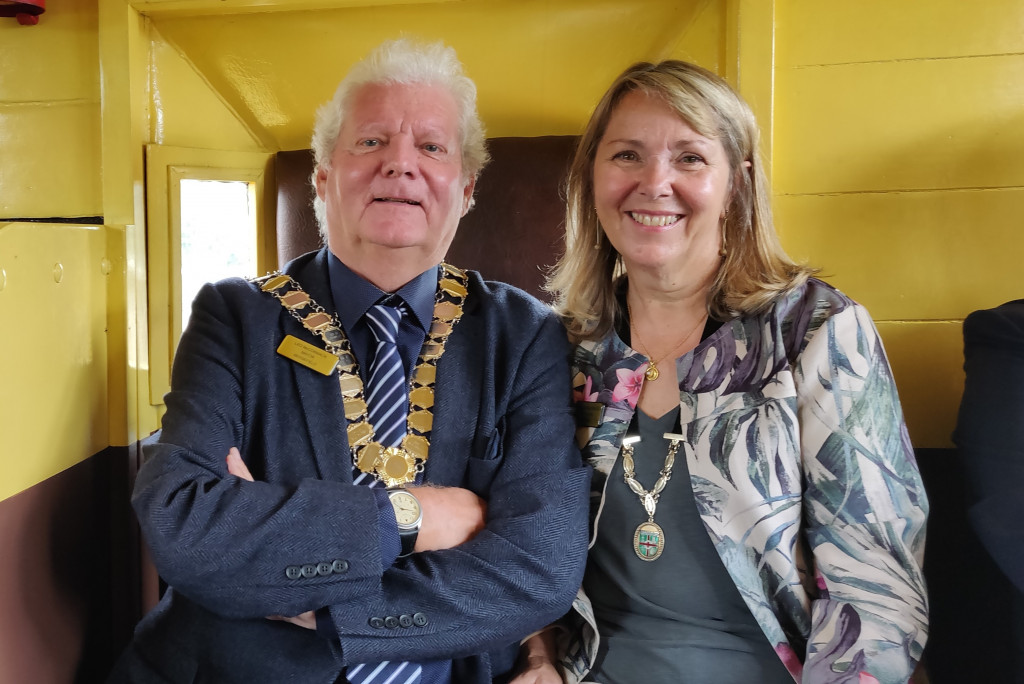 At the beginning of August, we attended a tour of Locomotion Museum in Shildon, where we were given an insight into forthcoming developments there. These are truly exciting times for the museum.
We also attended mayors' events at Seaham, Barnard Castle, Bishop Auckland and Stockton-on-Tees. The Barnard Castle Mayor's Challenge event was most enjoyable. Sandra and I were defeated semi-finalists in both the pitch and putt and darts competitions.
In Sedgefield, we supported Sedgefield in Bloom in meeting the judges for the Britain in Bloom Awards. The town centre looked stunning and the judges were clearly impressed. It is a remarkable testament to the hard work and dedication of this group and the council's gardening team, Stephen and Ben.
Perhaps the highlight of the last few months was attending the 166th Sedgefield and District Agricultural Show. Despite the weather, there was an excellent turn out and Sandra and I felt really humbled by the welcome we received. We particularly enjoyed judging the best trade stand and everyone agreed we chose worthy winners.
Having spoken to the Rotary Club at the show, they are working in conjunction with Sainsbury's to provide a defibrillator at the garage and I have written to the businesses surrounding Salter's Lane to ask for contributions to this worthy cause. Some time ago, I also wrote to Sedgefield Co-op's store manager, Lakota, to enquire if something could be done about improving the cash point in making it more user friendly for a dementia friendly town. I am happy to report that soon the screen will be replaced and eventually a new unit will be installed.
On a personal note, I spoke to the parishioners of St Edmund's and John Fisher churches regarding my role. I also highlighted the fact that this year, the Civic Service recognised the remarkable number of volunteer groups and the work that they carry out in making Sedgefield such a vibrant community.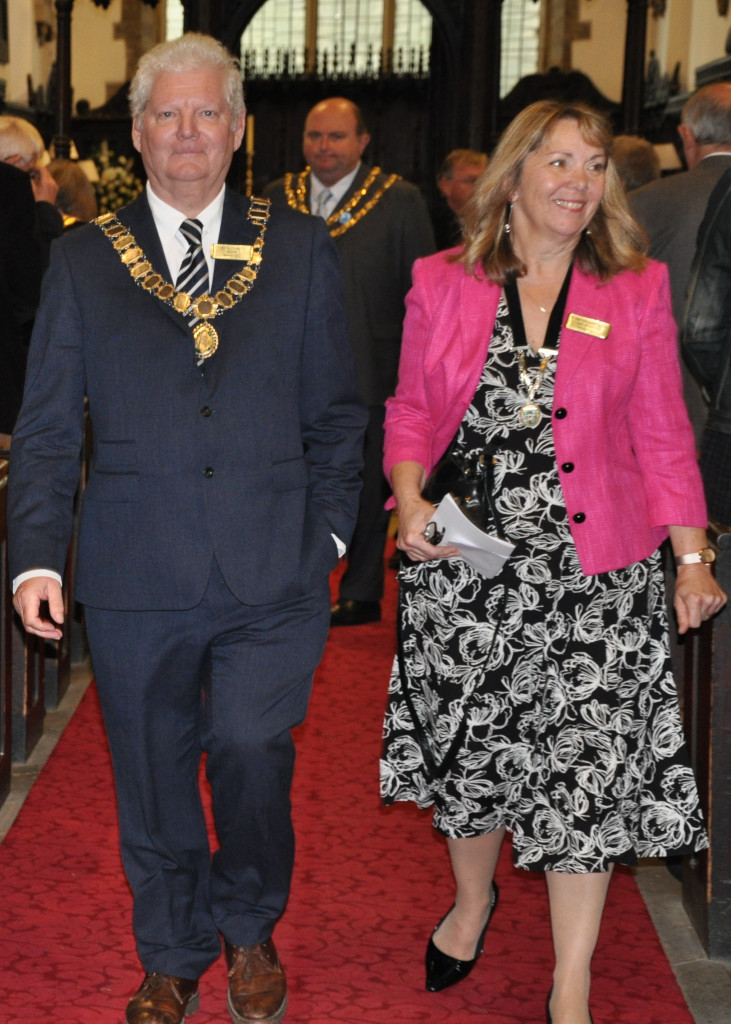 Archive
Mayor 2018/19 – Mavis Wayman
Mayor 2017/18 – David Brown
Mayor 2016/17 – Chris Lines
Mayor 2015/16 – Gloria Wills