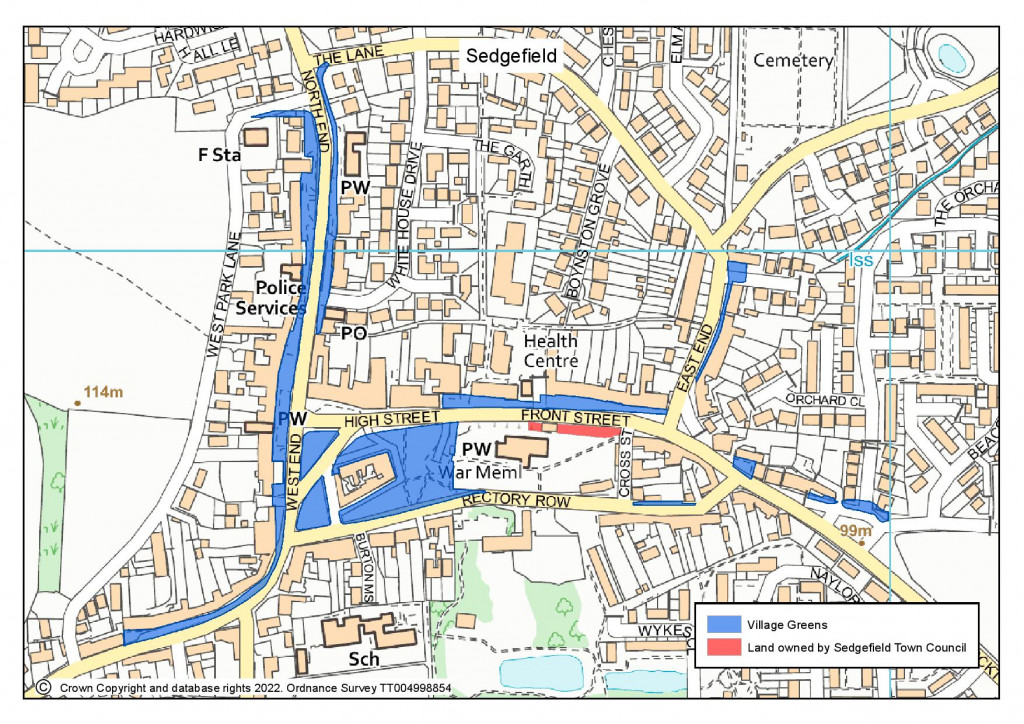 A village green is a common open area within a village or other settlement.  Traditionally, a village green was often common grassland at the centre of an agricultural or other rural settlement, and was used for grazing.  The village green also provided an open-air meeting place for local people which may be used for public celebrations and events.
There are a number of areas of village green in Sedgefield.  Details of the exact locations can be obtained from the Town Council Offices.  In some instances these areas can also be areas that are no longer grassed areas.  The Church Turning Circle is a perfect example of this and this area was refurbished in early 2015 by the Town Council to a very high standard to ensure this area is enjoyed by residents and visitors for many years to come.
The Town Council takes great pride in its village greens and takes responsibility for the grass cutting and maintenance of these areas.  The Town Council would like to remind everyone that vehicles should not be driven over the village greens or parked on this land as they can be damaged very easily.  Please let us know the full details if you become aware of any instances when vehicles are being driven over or parked on any of the village greens.
The Town Council would also like to request that no ashes be scattered on the village green, turning circle or war memorial. For anyone wishing to arrange the disposal or interment of ashes, please contact the Town Council.
For more information about Village Greens please read the Town Council's Village Greens Policy – click here.
Why not take a look round the village by following Sedgefield's Heritage Trail – click here