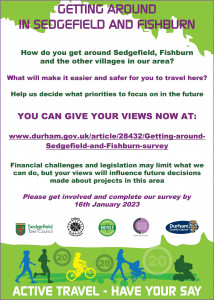 Active Travel In Sedgefield and Fishburn – Public Consultation:
Over recent months Sedgefield Town Council has been working closely with Durham County Council, the local Area Action Partnership, Fishburn Parish Council and Sedgefield's Bicycle and Active Travel Group (BATS) on an Active Travel Project.  The aim of this project is to find out how we can improve travel around our local area and identify the issues that matter to local residents, visitors and those who work in the area.  Below is some further information regarding the project as well as the hyperlink (in blue) which will take you to the consultation survey.  We would be grateful if you could take the time to complete this survey.  This project is going to be promoted widely across our local area so that we reach as many people as possible.
www.durham.gov.uk/article/28432/Getting-around-Sedgefield-and-Fishburn-survey.