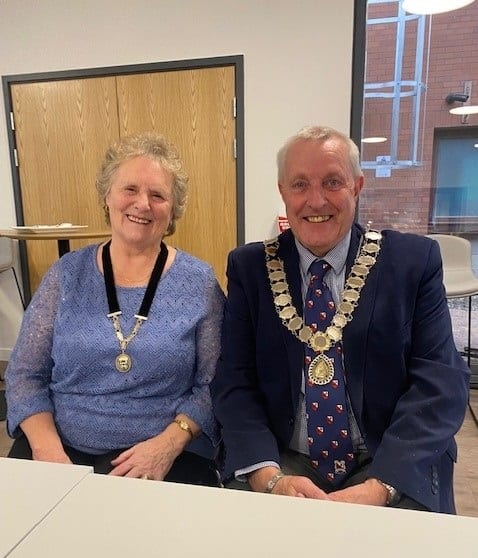 Dave Jasper
Mayor 2022 to Present
I am delighted to have been elected as Mayor of Sedgefield. I consider it to be a very great honour and privilege to have been asked to represent our wonderful village. My links with the area go back to 1976 when I was appointed as Music teacher at Sedgefield Primary, a role which I was very happy in during my 8 years there. It was during that time that I became MD for the Lyric Singers, another role which a thoroughly enjoyed. I moved into Sedgefield in 1988 and following my marriage to Julie we welcomed our children Tim and Ciaran who have both grown up in the village. In 2003 I joined the Sedgefield Players and can still be seen regularly tripping the boards in a wide array of productions. I love spending time with such a talented group of people ranging through all age groups. I am now three times the age I was when I first worked in Sedgefield and having spent most of my adult life here, I feel fully accepted as a local Sedgefield(ite). I just need to persuade the Players to put on a production of Dick Whittington as I have a black cat!
It was a great honour to be entrusted with the role of Mayor during 2022/23 and I am incredibly proud to have raised over £13,000 which was donated to Cancer Research UK and a wide variety of local groups and organisations at the Annual Town Meeting on Tuesday 9th May 2023. To see a recap of my first year as Mayor click here.
To be elected to continue as Mayor for a further year is a real privilege and an undoubted pleasure. Once again, I will endeavour to give 100% commitment to the position, representing Sedgefield across the North East and promoting the fact that it is a fabulous place to live and bring up a family.
A large part of the role is to raise funds for charity so watch out for me shaking my collection bucket at various events during the next year. My headline charity for the year ahead is the Red Sky Foundation, which raises funds for defibrillators in the North East, together with local community organisations. Some of these defibrillators will be heading to Sedgefield. So please get behind me and show your support once more.
Upcoming Mayoral Events
All tickets/information via Town Council Offices.
Mayor's Carol Service
Date: 7:00pm 7th December 2023
@St Edmund's Church
Mayor's Christmas Coffee Morning
Date: 10:00am 8th December 2023
@Sedgefield Parish Hall
with Hardwick Primary School Choir
Mayor's NYE Dance
Date: 8:00pm 31st December 2023
£10 @Sedgefield Parish Hall
Bring food to share. Cash bar, games.
Previous Mayors of Sedgefield