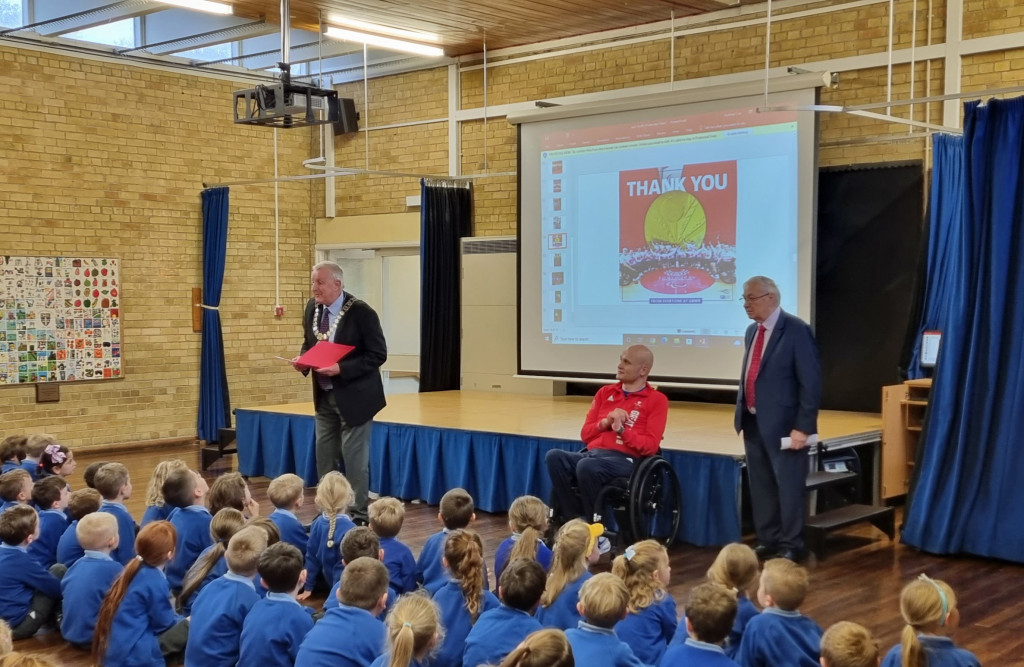 Paralympic gold medal winner Jack Smith received a big surprise when he returned to his old school in Sedgefield on Monday morning. Jack was invited into Sedgefield Primary School to talk to pupils about his life and career as a wheelchair rugby player. What he hadn't been told was that after presenting to the school assembly, a delegation from Sedgefield Town Council was on hand to award Jack the freedom of Sedgefield, in recognition of his achievements. Jack's family was also on hand to witness the presentation. Afterwards, Jack was taken outside to unveil a plaque that commemorates the gold medal that he won with his Team GB teammates at the Tokyo Paralympics in 2021.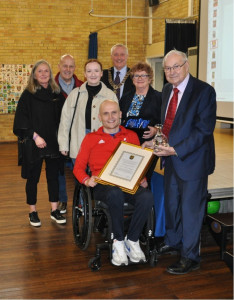 Jack Smith comments: "This was a very surreal and unexpected experience. I play rugby because I enjoy it and don't really expect that all of these other things will come off the back of that. It's hard to believe that there's now a plaque up in my honour at Sedgefield Primary School, where I was a pupil.
"In the national squad, we've already moved on from Tokyo and had other tournaments. Occasions like this are a definite reminder of what we achieved, but looking forward, I hope that more people can be encouraged to try wheelchair rugby. The North East Bulls train at the community college here in Sedgefield and are always keen to welcome anyone who wants to give the sport a try.
"It was brilliant to meet and talk to the children at the school, and I feel very honoured to have been awarded the freedom of Sedgefield. Thank you to Sedgefield Town Council, the school and everyone else who was involved in this."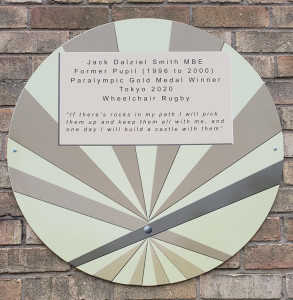 Cllr Mel Carr, chair of Sedgefield Town Council, comments: "The award of Honorary Freeman is the highest accolade Sedgefield Town Council can bestow. This award is only given to people who have given a significant to contribution to public life in our local area. The town council has granted this award to Jack in recognition of his fantastic sporting achievements and his steely determination to overcome adversity in order to succeed at the very highest level. We are not only proud of Jack's sporting achievements, but also the way in which he represents Sedgefield by being an inspiring role model to young people. Jack Smith MBE joins a very small group of people who have been given the title of Honorary Freeman of Sedgefield".
Andrea Cox, head teacher at Sedgefield Primary School, comments: "I think that Jack has got an inspirational story. It's lovely that he was a pupil at our school and I often talk to our children about how they could go on to do something amazing by following their dreams and not giving up. Jack embodies that message of resilience that we teach everyone at Sedgefield Primary School, so having him here to pass it on in person was fantastic, and really important. It was also lovely to be able to celebrate Jack's success in this way and unveil the plaque at the school."
Find out more about the North East Bulls on Facebook at https://www.facebook.com/BullsWRC and find the club on other social media.