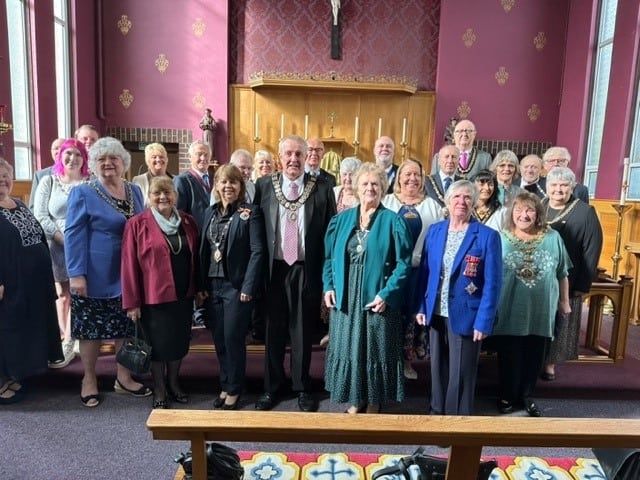 Sunday 1st October
The Mayor played host to DL Maura Regan and a large number of Mayors from the region for his Civic Service in St John Fisher Church, at a Mass led by Fr Barrie McKenzie. Afterwards the party crossed the road to Little Sicily for Sunday lunch. Over £115 was raised for the Mayor's Charities during the course of the afternoon.
Thursday 5th October
The Mayor and his Consort spent a very pleasant hour at the Pop In Club in Ceddesfeld Hall this afternoon, meeting the lovely members and chatting with some of them over a coffee. Wendy was the perfect hostess and, as our Citizen of the Year, it was immediately obvious why she was so deserving of the accolade. Pop In meet on Tuesday and Wednesday mornings and Thursday afternoons. Pictured are Debbie and Wendy with The Mayor and his Consort.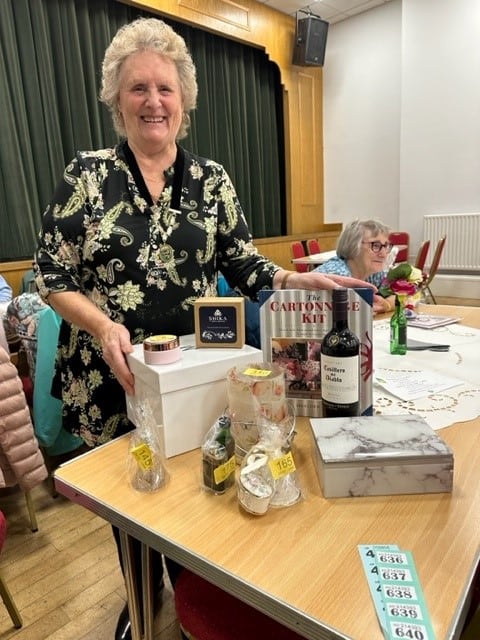 Friday 6th October
The Mayor and Consort attended a Coffee Morning in aid of their friends from the Memory Café in the Parish Hall. They try to support them as often as they can. Today they came away with a bagful of prizes, thanks to the generosity of some of the regulars passing on their winnings to them.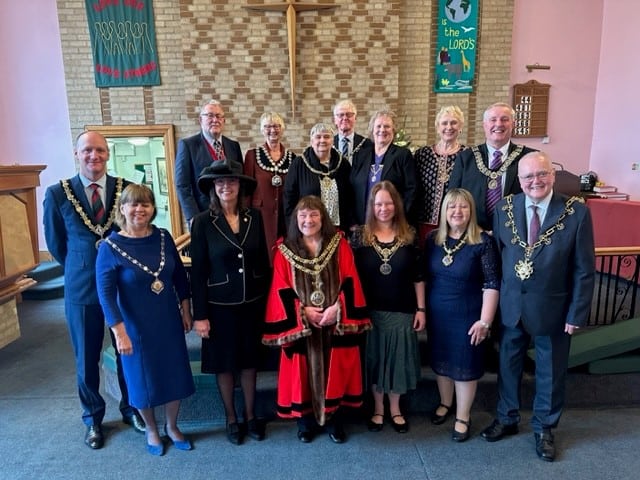 Sunday 8th October
The Mayor and Consort attended a Service of Dedication in Cockerton Methodist Church for Darlington's Mayor, Cllr Jan Cossins today with Deputy Lieutenant of Durham, Cyndi Hughes as guest of honour. It was a lovely service and an equally lovely spread followed afterwards. Jan's charity is The Listening Hub in Darlington.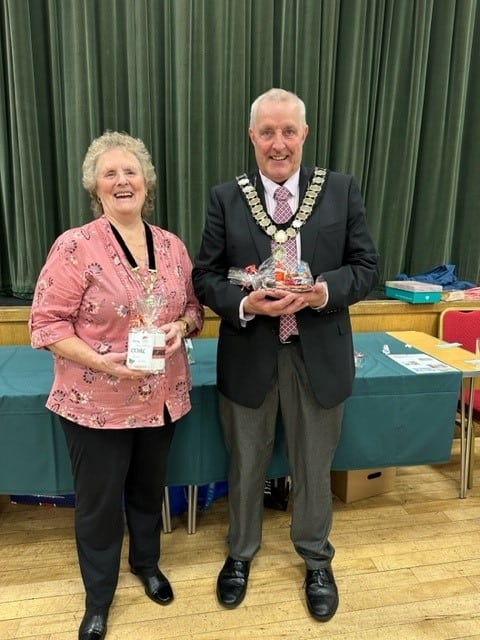 Friday 13th October
We were very happy to support the Coffee Morning in the Parish Hall for Inner Wheel, raising funds for The Stroke Association. A lovely selection of cakes, Christmas fancy goods and the obligatory raffle all added to the fun. We met 2 lovely ladies, Dorte and Kerstin from our twin town of Hamminkeln, who have been here in Sedgefield for a week.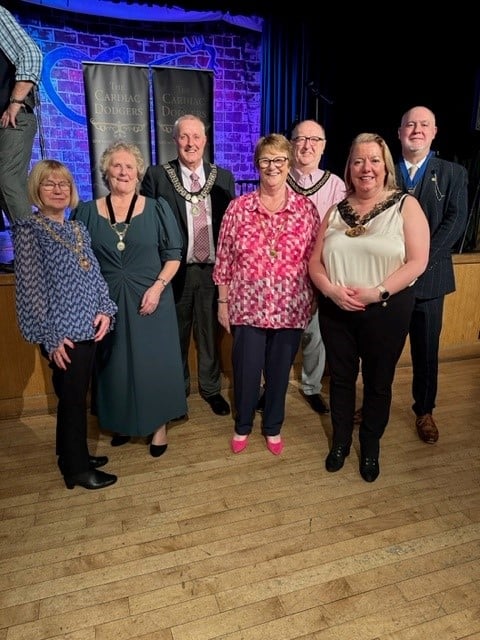 Friday 13th October
The Cardiac Dodgers did a great job for me tonight, entertaining the Parish Hall crowd. They regaled us with a succession of 60s hits. For only a 2-piece band, they really do produce a full band sound. Thanks gents for another great night, enjoyed by all. Robinson's pies went down well too.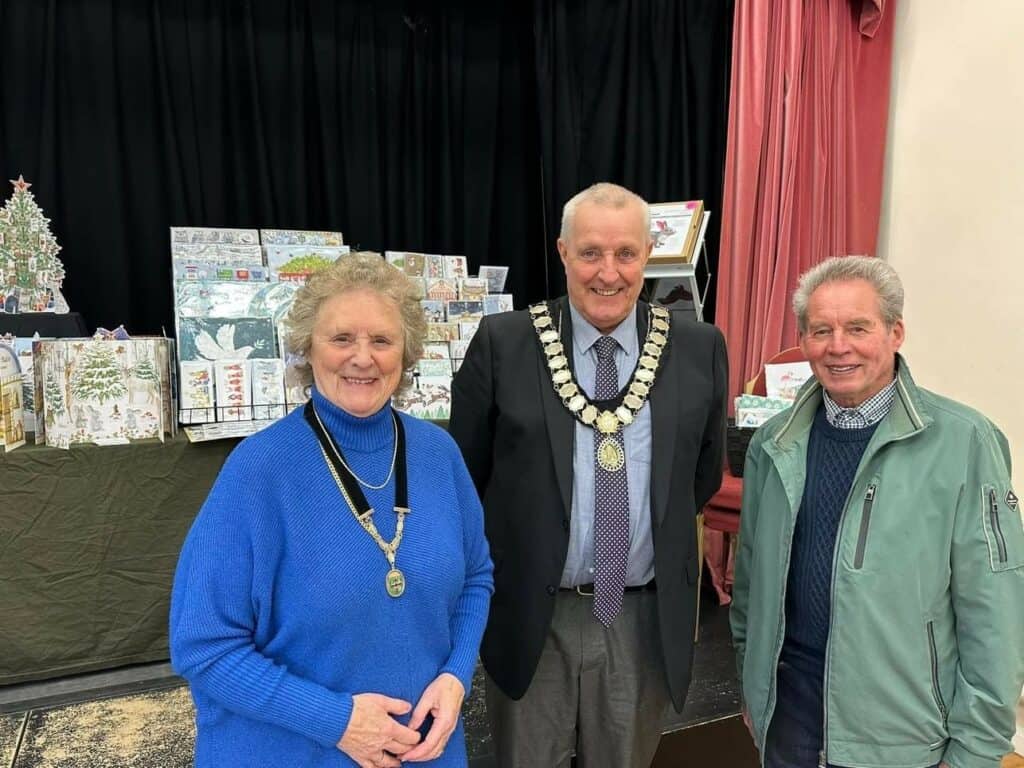 Saturday 14th October
The Mayor and Consort paid an early morning visit to Mordon Village Hall, following an invitation from Robert Elders and what a warm welcome they received. Fresh coffee and delicious cakes were on offer for donations and there was a spectacular display of greetings cards, Advent calendars and scented goods from Nichola Jones, who will be at the Mayor's Christmas Coffee Morning on December 8th. What a superb facility they have in Mordon!
Monday 16th October
The Mayor and Consort were delighted to be invited to the AGM of Aycliffe's Pioneering Care Partnership, as they celebrated their 25th birthday. They listened to some fascinating personal journey stories, were amazed at how many volunteer hours are given and how many groups work from there. Chief Executive Carol Gaskarth was the perfect hostess and the buffet lunch she had provided was excellent.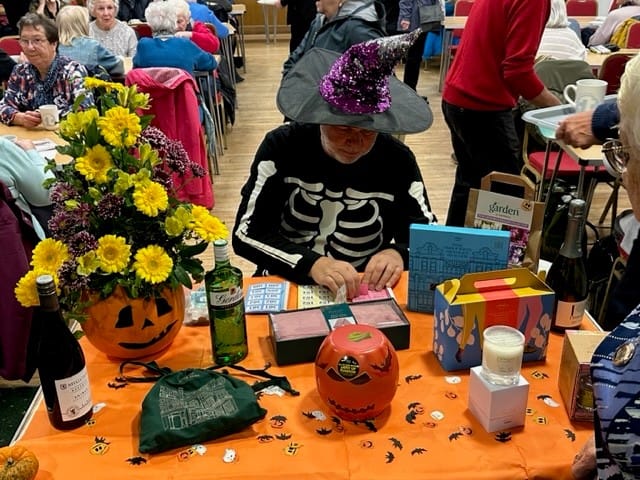 Friday 20th October
The Mayor and Consort were pleased to attend the Sedgefield in Bloom, Hallowe'en-themed Coffee Morning, with the usual raffle, tombola, door draw, books, jigsaws, coffee and cakes. There was also a special guest appearance today from Nichola Jones with her stunning selection of gift cards and Advent calendars. In spite of the bleak weather, there was a good turnout which meant it was the usual hive of activity.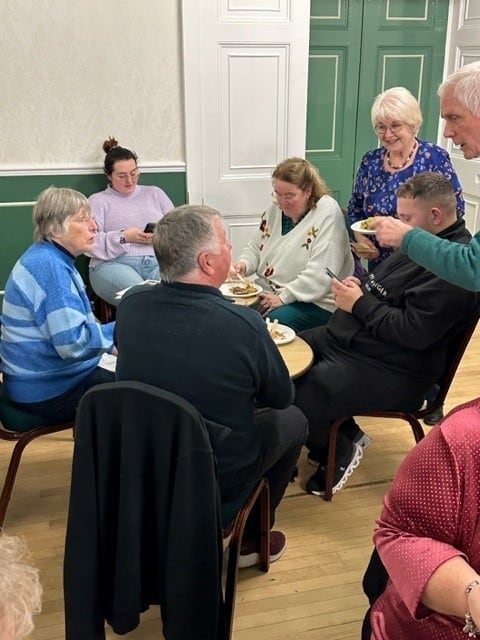 Friday 20th October
It was the Mayor's Annual Quiz Night in Ceddesfeld Hall tonight. It was a lot of fun, there were some crazy team names (and answers) and congratulations go to The Rosedale Sextuplets who stormed in front in the last few rounds to take the title and the prizes. Delicious pies and peas were served up by Robinson's of Wingate. My team of Jane, Jane. Julia and Quizmaster Chris did a great job of organising it all for me. Thank you to all those who beat the weather and took part. (Photo took during pie and peas break – no phones allowed during the quiz!)
Wednesday 25th October
The Mayor and Consort enjoyed a great afternoon at The Arc in Stockton, watching the 4 finalists in the Best Horror Short Films in the Tees Valley International Film Festival. Michael Luke, the Director of the Film Festival welcomed everyone to the Cinema and Sedgefield's entry 'Sceptic', which has already won at the Oregon Film Festival, was one of the 4 finalists out of over 300 entries! The winner will be announced on Saturday night with Robson Green and Bill Fellows at the Closing Ceremony. The Mayor and Consort can't wait to find out whether Sedgefield has won again.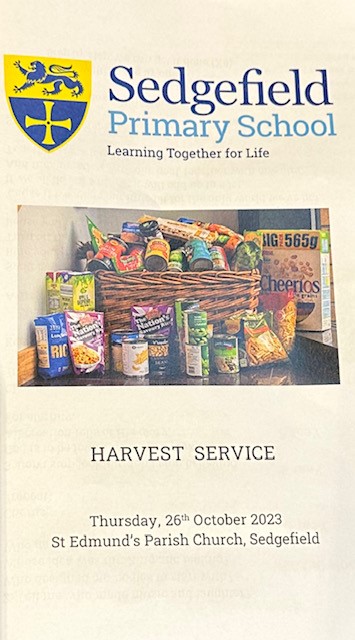 Thursday 26th October
The Mayor attended Sedgefield Primary School's Harvest Festival in St Edmund's Church, where he witnessed wonderful, enthusiastic singing, clear readings and a packed church. The children had collected a mountain of food for Feeding Families, only a fraction of which was in church. Headteacher Mrs Cox informed him that their Red Sky Foundation defibrillator is now up-and-running.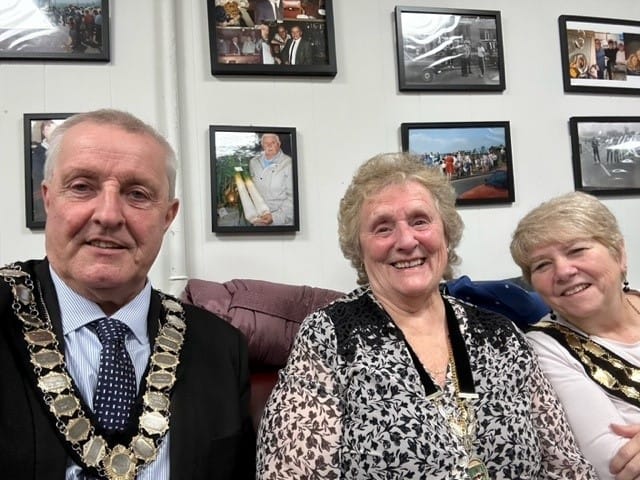 Thursday 26th October
The Mayor and Consort were entertained at The Browney, where fish and chips plus a raffle, a quiz and a knockout domino game were the ingredients for a fantastic night as guests of Brian Nelson and Susan Nelson. Sunderland's Consort Harry Trueman proved to be the domino king. A super night's entertainment was enjoyed by all, raising £830 for the Stroke Association and Man Health.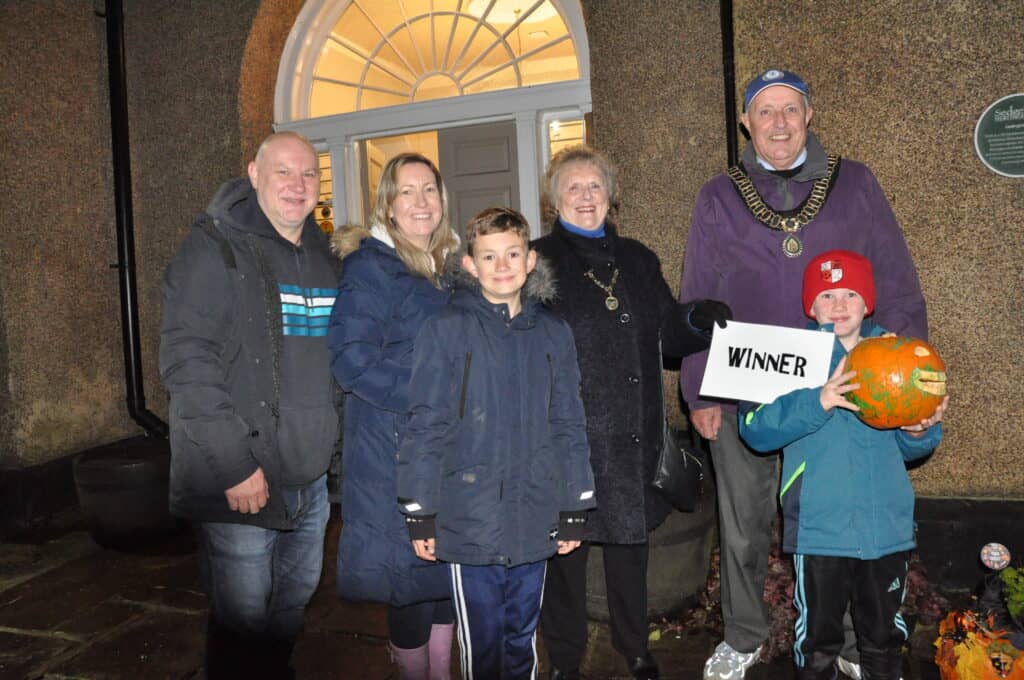 Friday 27th October
Tonight was the STC Hallowe'en Howler and Fireworks Display in Ceddesfeld Hall Grounds. Some fine drizzle started but it didn't stop the crowd's enjoyment. It was a pleasure to once again to judge the pumpkin competition – Lewis, Emily and Harry were thrilled to be chosen as our Howler winners from an excellent, top-quality field.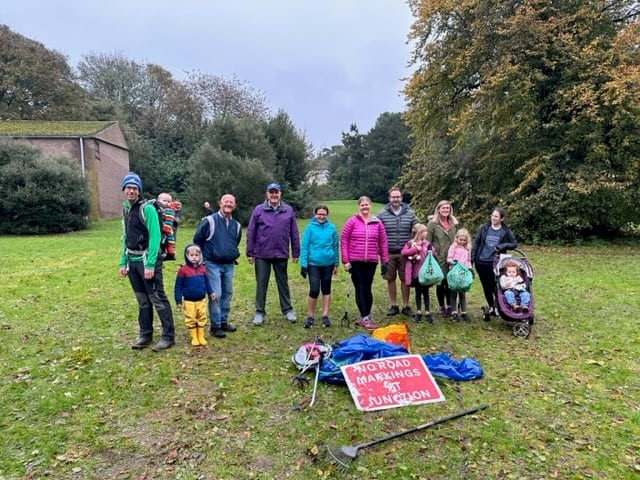 Saturday 28th October
The Mayor met up with Sedgefield Ploggers this morning to help clean up the firework debris from last night's spectacular event. It was lovely to see some youngsters getting stuck in at the clean up.
Sunday 29th October
The Mayor and Consort attended the Awards' Night and Closing Ceremony of the Tees Valley International Film Festival at The Arc in Stockton. 'Sceptic' didn't win but it did brilliantly to be in the top 4 out of 300+ entries. They were delighted to get the chance to meet and chat with Robson Green and Bill Fellows.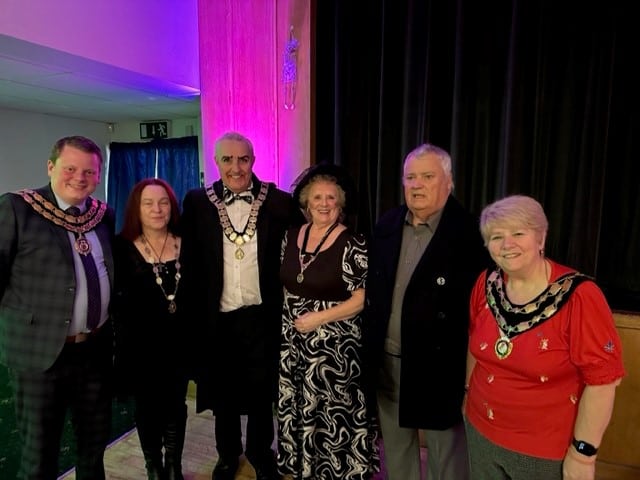 Monday 30th October
Sedgefield Players put on a wonderful Hallowe'en show for the Mayor's Charities tonight. They never cease to amaze at how they can turn their hands (and feet) to dance routines, singing, sketches, recitations and poetry. The Mayor is indebted to them all once again for the fantastic support they afford him so generously. Thank you, Players.